News
---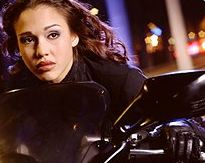 10.12.06 - People Online: A 'Super' Ceremony Jessica Alba takes a walk down the aisle — as superhero Sue Storm — on the Vancouver set of the Fantastic Four sequel on Wednesday.


| | |
| --- | --- |
| | Gregg DeGuire/WireImage.com |
10.16.06 - E!Online Fashion Police: Okay, We'll Stop Now: Jessica Alba is too cute for words at the Spike TV Scream Awards 2006. Seriously, we'd only embarrass ourselves if we raved over her tiered Moschino dress (so pretty!), animal-print Jimmy Choos (very sexy!), hobo bag (love it!) and stick-straight hair (want it!). So, we'll just say kudos, Jess, and leave it at that. -->

10.11.06 - People Online: Cash & Carry Jessica Alba, who recently told Elle that she refuses to do nude scenes, stays under cover while stocking up on paper products with boyfriend Cash Warren (not pictured) in Beverly Hills on Tuesday.

10.11.06 - Zap2It.com: Alba - Sweatsuits Yes, Nudity No Even though Jessica Alba played a stripper in "Sin City," she's not about to bare it all for anyone in public. In an Elle magazine interview, the 25-year-old says that the film's directors offered her the option to do nudity in the film, but she refused. More...

10.3.06 - People Online: Close Encounter Jessica Alba keeps her multitasking man Cash Warren close to the hip following a late breakfast in Santa Monica on Monday.

9.1.06 - People Online: Off the Chain Jessica Alba goes leash-free in the Hollywood Hills but remains plugged in to her iPod Shuffle during a Wednesday stroll.

8.30.06 - People Online: Sheerly She Jests? Jessica Alba leaves facialist Kate Somerville's Melrose Place clinic with a clear outlook — down to her sheer leggings — in West Hollywood on Tuesday.

8.21.06 - People Online: Sitting Pretty Jessica Alba has plenty to smile about at the Teen Choice Awards, where she took home the trophy for Choice hottie along with her male counterpart Orlando Bloom. The duo beat out exes Jessica Simpson and Nick Lachey for the honors.

7.12.06 - TVGuide.com: Per Variety, Jessica Alba is in talks to star in the Tom Cruise-produced remake of The Eye, a thriller about a cornea-transplant recipient who sees unsettling image's from the donor's life.

7.5.06 - People Online: All-Star Fan Jessica Alba lends her support (and a smile) to the ballers at the Midsummer Night's Dream Street Basketball tournament, a charity event that benefits at-risk youth, Sunday in Venice Beach.

6.15.06 - Jessica Alba was nominated for two Teen Choice Awards. One for choice Movie Actress: Drama/Action Adventure for her role in "Fantastic Four," and one for Choice Hottie - Female. Teenagers can vote at TeenPeople.com, which has sponsored the balloting for several years, and at several sites owned by FOX parent News Corp.: MySpace.com, IGN.com and FOX.com. The awards will be handed out Aug. 20 on FOX, and teenagers can vote for the winners through Aug. 11. The nominees announced Thursday constitute "Wave One" of the process, with two more to come in the weeks leading up to the awards.

6.15.06 - TVGuide.com: Jessica Alba will play serial dater Dane Cook's one true love in Good Luck Chuck.


| | |
| --- | --- |
| | SteveGranitz/WireImage.com |
6.9.06 - E!Online Fashion Police: Combover...a Peel? Jessica Alba models one of summer's hottest hair trends at the MTV Movie Awards: the deep side part and sexy bangs dramatically swept to one side of the face. But we're not so sure about that banana-yellow bustier paired with a black pencil skirt and heels. Last time we checked, produce wasn't on the It list. -->

6.7.06 - Jessica Alba and Elizabeth Banks will be joining Aaron Eckhart in the indie comedy "Bill." Banks will play Eckhart's adulterous wife, while Alba will be the saleswoman who befriends him.

5.24.06 - People Online: Buddha Belly Jessica Alba is in a Zen state of mind as shops along L.A.'s Melrose Avenue on Monday.


| | |
| --- | --- |
| | James Devaney/WireImage.com |
5.4.06 - E!Online Fashion Police: Cool Treat Jessica Alba certainly looks good enough to eat in this sparkly strapless Calvin Klein dress that she helped design. She adds frosting to the ensemble with plenty of ice, including Fred Leighton diamond and green enamel pendant earrings and a Jacob & Co. platinum and 23-and-a-half-carat, two-row diamond bracelet. We'll take this dishy babe to go, please. -->



Jessica Alba and Jamie Foxx
by Jamie McCarthy/WireImage.com
5.3.06 - TVGuide.com Caught in the Act: Wholesome City Jamie Foxx and Jessica Alba pose for their new Crest White Strips ad.... Oh, wait, they're actually trying to sell advertisers on MTV's new and returning programs at the network's upfront. What a waste of good teeth! -->

5.2.06 - TVGuide.com: Jessica Alba will be hosting the 2006 MTV Movie Awards, to be filmed June 3rd and broadcast June 8th. "It's always a crazy, fun show, and I can't wait to be right in the middle of the action," Alba, up for a trio of awards including sexiest performance (Sin City), says in a statement.


| | |
| --- | --- |
| | Jeffrey Mayer/WireImage.com |
5.1.06 - E!Online Fashion Police: Brow Beaten The black Dolce & Gabbana cocktail dress Jessica Alba wore to Us Weekly's Hot Hollywood Awards is a stunner--she was voted Style Icon, after all--but what's with her makeup? Brooke Shields doesn't have such bushy brows on a bad day. And no, Jess wasn't just going au naturel. The next day, those creepy caterpillars were gone. Hopefully, so was her misguided makeup person. -->

4.20.06 - People Online: All That Glitters Nothing like a little bling to liven up the afternoon: Jessica Alba and boyfriend Cash Warren emerge from a visit to a Beverly Hills jewelry store Tuesday.

4.18.06 - People Online: Snow Honeys Jessica Alba and boyfriend Cash Warren enjoy the Rocky Mountain spring by squeezing in some snowboarding while in Telluride during the weekend.

4.5.06 - Jessica Alba has been nominated for an Alma Award for Outstanding Supporting Actress in a Motion Picture for her role in "Sin City." The National Council of La Raza's Alma Awards ceremony, hosted by Eva Longoria, will be aired on ABC on Monday, June 5th, at 9:30pm ET.
4.5.06 - TVGuide.com: Jessica Alba dropped her demand that Playboy pull its March issue, featuring a bikini-clad photo of her on the cover, after receiving a letter of apology from Hugh Hefner. "This was never about money," Alba, who had claimed the image suggested she appeared nude inside the mag, says in a statement. "It was about setting the record straight about something that was done without my knowledge or consent."

| | |
| --- | --- |
| | Andy Paradise/WireImage.com |
2.24.06 - E!Online Fashion Police: Bad Kitty! Jessica Alba needs to change her spots. We have nothing against the leopard print she wore to the Dolce & Gabbana show in Milan, Italy, but all those folds of fabric have given this piece an identity crisis: Is it a dress? Is it a skirt? A caveman pelt--who knows? Jess, sometimes it's best to turn down those designer freebies. -->

3.1.06 - TVGuide.com: According to papers obtained by TheSmokingGun.com, Jessica Alba is threatening to sue Playboy for using a bikini-clad photo of her — from the movie Into the Blue and obtained in an "outrageous, unethical" manner from Columbia Pictures — n its March cover, thus making it appear that she is featured in a "nude or semi-nude pictorial." Arguing that the cover has caused the actress "immeasurable harm," Alba's lawyers demand that Playboy cease distributing the issue and tender a monetary settlement for the image's unauthorized use.

1.17.06 - Click here for a picture of Jessica Alba arriving at the 2006 Golden Globe Awards, and click here for a picture of her presenting an award with Luke Wilson..

Jensen Ackles by
Frank Ockenfels/WB
1.10.06 - TV Guide: Jensen Ackles Eyes a Super Second Half
by Matt Webb Mitovich
When last we tuned in to WB's freshman frightfest, Supernatural, bogeyman-busting brothers Dean and Sam Winchester had fended off the insanity of an old, shuttered asylum only to come home to a phone call from their perpetually MIA father. The action picks up right from that instant with this week's new episode (airing tonight at 9 pm/ET). Jensen Ackles, who plays Dean, shared with TVGuide.com a preview.
TVGuide.com: Were you happy when Supernatural got picked up for a full season so early on?
Jensen Ackles: Yeah, it's always a crapshoot with the whole television thing in general, so the fact that we had a nice little buzz and had the powers-that-be pushing for us gave us the confidence we needed to move ahead and put us in the frame of mind we needed to be in for the remainder of the season.
TVGuide.com: Especially since there is so much mythology to delve into. You must have been like, "This could be a really awesome show if...."
Ackles: If we get the right support and it's done right. And so far, I think everybody has made every effort they can to really get this show off and running the way we all want it to be.
TVGuide.com: I have to wonder, does it get lonely being just you and Jared [Padalecki, Sam] in every damn episode? Do you corner the writers and go, "Can't we get a bartender buddy or something?"
Ackles: [Laughs] Oh, trust me. When [Warner Bros. Television president] Peter Roth and I had dinner about a month ago, he said, "So, the show's doing really, really good, everybody's really happy.... How do you think we can make the show great?" "Add. More. Characters." is the first thing I said. [Laughs] But that's what we signed on for — we knew it would be just Jared and I, and that it would be a very demanding schedule, and it definitely has been. It hasn't let up. I think I've had one day off since July. The cool thing about it is that Jared and I really get to work hard and, in the same breath, we get to meet and see and work with new people each week. It's a new town, a whole new story, new people, so in a sense that's something kinda cool that we have that a lot of shows don't.
TVGuide.com: Do you guys never film during the day, or does the show just do a great job of simulating darkness and murkiness?
Ackles: Everything that you see inside is generally done during the day and then, of course, our night shoots are either cheated a bit or we wait until the sun drops. But we shoot in Vancouver, where the sun goes down quite early. It will be 4:40 in the afternoon and it's dark already.
TVGuide.com: I thought my ears spied Canadian accents on some of the guest stars. I was watching "Asylum" and that blonde girl.....
Ackles: What, did she throw in an aboot?
TVGuide.com: Something like that. I was like, "A-ha, I see we're shooting in Canada."
Ackles: It's funny, I've actually had to grab the script supervisor — who is Canadian, so it doesn't register to her the way it does to me — and tell her, "You've got to watch these accents, they're starting to kick up," and then she'll go tell the actor. There are only a few of us who can really catch it, and if we're not around....
TVGuide.com: What bogeymen are left to tackle this season? Can you tease anything about what's coming up?
Ackles: I know that there's some good stuff coming up with the father....
TVGuide.com: At the end of "Asylum," he's on the other end of the telephone.
Ackles: Exactly, so that's going to start becoming much more relevant. There's such a pool of these [bogeyman] stories that Erik Kripke, the writer and creator, has come up with....
TVGuide.com: And you don't want to burn through them all in Season 1.
Ackles: And we're not, either. Erik is just this mad genius in L.A. who kind of locks himself in the writers' room and comes up with all of this awesome stuff. I have every confidence in him in the world.
TVGuide.com: What did you and Jared get for a Christmas bonus? Your own '67 Chevy Impalas?
Ackles: [Laughs] That would have been nice! I think that's maybe the fifth season, if we get there.
TVGuide.com: You got some wimpy Supernatural wall calendar, didn't you?
Ackles: We all got jackets and stuff... and we also got a couple of days off earlier than we were supposed to.
TVGuide.com: Let's talk about your three previous extended runs on television: Dark Angel, Smallville and Dawson's Creek.
Ackles: I kind of felt like a bit of a pinch hitter on those shows. They were already established, and I was just kind of coming in to do whatever they needed to be done.
TVGuide.com: It was almost a "prolonged screen test" until the day got your own show, wasn't it?
Ackles: Yeah, exactly. [Laughs] They were just kind of "using and abusing" me to make sure I could handle the pressure and the whole situation. But it was good. After Dark Angel, [Fox] made me the lead of a series called Still Life. We shot the pilot, they picked it up for seven episodes, and then they decided to shelve it. There was a big change in command, and [the new entertainment president] cleaned the slate of anything that was pending, so we got lost in the shuffle.
TVGuide.com: They should put the seven episodes out on DVD, cash in on your Supernatural buzz.
Ackles: Hey, that'd be the smart thing to do. But who knows what the suits are thinking these days?
TVGuide.com: Getting back to Supernatural, do you ever worry that Dean is too quippy? That maybe his attitude undercuts the tension?
Ackles: That's a very delicate balance you've got to find, because at the end of the day this is a horror show, and you really have to make it believable. To do that, you have to really be scared and you have to really react to these things. The only difference between Dean and anybody else reacting to it is that this is what he's been living, breathing, eating and sleeping for most of his life.
TVGuide.com: Plus, the humor is probably a sort of coping mechanism.
Ackles: He's definitely got the cocky facade covering up a lot of what's going on underneath. That's a cool thing about him — he's a bit of an onion, and in each episode you start peeling layers and layers off. Sometimes I really have to think, "OK, I'd like to make this nonchalant and funny, but I don't want to miss the point that this is a very serous issue I'm dealing with." It's a delicate balance.
TVGuide.com: Have you ever been to the funky official Supernatural website?
Ackles: Yeah, that's cool as hell. I pop around in the trunk, the glove compartment....
TVGuide.com: I was just there for the first time and it's crazy!
Ackles: It is crazy. In fact, I do these things every now and then where I'll go and record a voice-over or an outgoing [phone] message, or a message to my dad, that they'll play on the webpage. They're really going to make that an integral part of the show. I know they've set up an actual phone number and an e-mail address that are used on the show, and people are calling and leaving messages and e-mails. People at Warner Bros. are going through them. It's been a really cool response.
TVGuide.com: Is your girlfriend too scared to watch the show?
Ackles: I'm currently a single guy, so the only women in my life are my sister and my mom, and yes, they definitely watch the show and yes, they definitely get scared!

Alimi Ballard by
Robert Voets/CBS
12.9.05 - TV Guide: Numbers Added Up for Dark Angel Alum
by Matt Webb Mitovich
Alimi Ballard, who played Herbal Thought on the cult hit Dark Angel, is these days playing someone who could not be more different: tough-as-nails FBI agent David Sinclair on CBS' Numbers (Fridays at 10 pm/ET). What does the actor make of the hit series' brain-busting twist on TV procedurals? Why didn't he merit a spot on the Titanic? And what lesson did he learn from an Oscar winner? TVGuide.com asked Ballard those questions and more.
TVGuide.com: When you saw that Numbers was a procedural with a complicated math hook, were you like, "This can't fly"?
Alimi Ballard: The first time I got my hands on this script, that was the first I had heard about this project. And when I read it I saw that it was so tight, the weaving together of these math geniuses and the way they see the world in numbers — the way the wind moves, the trajectory of birds, all these calculations and equations overlapping with how FBI guys see serial killers, how they view the world in what people are doing and their intentions. I was very impressed. I was like, "Whoa! Who wrote this?!"
TVGuide.com: Oh, so you figured, "I have to be a part of this."
Ballard: It was smart and it was well crafted in a way that it didn't feel like these odd pieces coming together. I was impressed by that alone. This was the only thing that I read that pilot season and I was like, "I really hope I get this!" [Laughs]
TVGuide.com: While Rob Morrow and David Krumholtz' smarty-pants are off doing the math thing, you and Dylan Bruno (as Colby) solve crimes the old-fashioned way.
Ballard: I love that! We kick in doors and blow things up! I hate to be a kid about that, but me and Dylan, man, we get to fly through windows and stuff. We're the first ones in. I'm a guy who grew up watching kung-fu movies — Bruce Lee is one of my idols — so that kind of physical stuff is exciting, especially as it relates to them catching criminals.
TVGuide.com: David and Colby also have an entertaining verbal interplay.
Ballard: Oh, yeah, we're like peas and carrots. [Laughs] I do like that as well, how they made us from different worlds with slightly different points of view. We'll choose to [approach a crime scene] differently 95 percent of the time.
TVGuide.com: Yet always wind up on the same page, like when they worked together to find a bullet that had been shot straight up into the sky.
Ballard: Yes, yes. We were arguing over what kind of gun the guy would have, going over all that stuff.... It was really fun, man.
TVGuide.com: So the big question: How good are you at math?
Ballard: I think I'm average, in all honesty. [Laughs] I'm a guy who was like a C, B student. I was good at it, but I had no passion for it.
TVGuide.com: It wasn't the stronger half of your SAT score, I take it?
Ballard: No, man.... Actually, wait a minute — I was pretty good at the math part! It was all the reading stuff that bored the crap out of me! [Laughs] All the reading and grammar, I was like, "Kiss my a--, man."
TVGuide.com: Your first TV role was in 1993, as Frankie Hubbard on the soap opera Loving. Talk about initiation by fire, huh?
Ballard: Absolutely. I got this gig and it was incredibly hard work. People laugh at soaps, saying they're full of "bad acting," and I'm like "Ha!" If you had to produce the volume of work these guys do every day, that is a feat. Most people don't know how hard it is to do that and then be good. The soap actors that get really famous because they're really good are incredible actors.
TVGuide.com: What's more, you were on Loving as it morphed into The City, which tried to be groundbreaking by shooting entirely on location and with hand-held cameras....
Ballard: It was a lot of fun, and I got to work with one of the best actors I've ever seen, Debbi Morgan. Oh, man, she is just a versatile actor, you see a lot of that in Eve's Bayou. She gave me a three-year "class" in watching her work and just copying everything good I saw. It was a really great experience.
TVGuide.com: What do you think about your Dark Angel pal, Jessica Alba, becoming little Miss Thing?
Ballard: We had a great time up there in Canada, shooting. Working with [Dark Angel creator] James Cameron and working with Michael Weatherly, whom I'd worked with on Loving — he ran me over in his Range Rover and I blackmailed him for money. [Laughs] And Jessica, she is a nice young lady. If it's what she wants to do, she'll be huge. She could go off and be a rocket scientist, that's how talented I found her to be.
TVGuide.com: Years later, did you call James Cameron and say, "Can't a brother die on the Titanic?"
Ballard: I didn't, actually! [Laughs] No, no, I'm not the biggest water fan, so all of that would have freaked me right out!
TVGuide.com: You did, though, get to do another big-budget film, Deep Impact.
Ballard: That was my first big movie, and I was really intimated and scared as crap.
TVGuide.com: Did Tea Leoni hold your hand at all?
Ballard: She was really nice, a sweet lady, and yeah, she helped me out. I really treasured that experience.
TVGuide.com: Lastly, what did you learn working with Cuba Gooding Jr. and Robert De Niro on Men of Honor?
Ballard: That you can win an Oscar, man, and still be a great dude and be as approachable and kind and warm as the day you first started out. I will never forget working with Cuba Gooding Jr., ever. Ever. Ever.
| | |
| --- | --- |
| | Mario Magnani/Getty Images |
10.26.05 - E!Online Fashion Police: Hoodwinked Wow. So, Jessica Alba's famously fabulous figure is all a Harry Potter magic spell involving stilettos, short skirts, support garments and shiny stockings? Good to know. Now, the rest of us gals can get on with life, secure in the knowledge that even a superhot sexy star has her dumpy days, just strolling New York's West Village wearing jeans, sneakers and sweats. Glad you're one of us, Jess. -->

Jessica Alba
courtesy MGM Studios
9.30.05 - TV Guide: Jessica Alba Gets Physical, Yet Again
by Matt Webb Mitovich
In Honey, she danced until she couldn't dance no more. In Sin City, her stripper did wonderful things with a lasso and chaps. In Fantastic Four, she was out of sight as Invisible Woman Susan Storm. And now, in the thriller Into the Blue (in theaters Sept. 30), Jessica Alba once again has put her mettle to the metal, playing the self-sufficient lady love of a treasure hunter (The Fast and the Furious' Paul Walker) who unwittingly digs up big trouble on the Caribbean seafloor.
So, considering all the above, when is Alba going to give herself (and her body) a breather? "I'm with you on that!" she tells TVGuide.com, laughing. "I actually thought, in my really delusional mind, that I was going to get paid to hang out in the Bahamas and scuba dive for four months. 'Hmm, that's not a bad job.' And then I realized we'd be shooting in the winter, with wild sharks in every single scene that's in the water."
The actress also got a surprise from her Into the Blue wardrobe (and in a way that will undoubtedly delight many male theatergoers). "I thought we'd be wearing wet suits — because if we were real divers, we'd have on wet suits — but they were like, 'It's the summer.' I said, 'Is it summer in the movie? Because right now, it's cold!'"
But even with the less-than-balmy temps and the less-than-practical bikinis, Alba enthusiastically dove into her role and the many underwater and action scenes. "The essence of the movie, and the reason I wanted to do it, is that it's a real page-turner," she tells us. "I read the script in 45 minutes and was on the edge of my seat the entire time. Plus, I knew it was going to be gorgeous."
Having starred on the mid-'90s version of TV's Flipper, Alba was no stranger to scuba diving or communing with aquatic life — although she admits she is more used to dolphins than to their angry, sharp-toothed ocean mates. "Sharks are pretty terrifying animals, because they're not very bright and they're pretty much blind, so they don't see the difference between you and a fish. So the [Jaws] theme song is in your head the whole time," she says. "Paul was fearless, he didn't mind them, but I was like, 'I need my fingers! I don't want them to bite me!'"
Her Into the Blue heroine, however, is made of tougher stuff — a quality Alba sought to emphasize by amping up an otherwise typical "guy saves the girl" scenario. Recalling a sequence that would have left her character MIA for much of the third act, she says, "I said to [director] John [Stockwell] and the writer, Matt [Johnson], 'I think I'm probably the most experienced person here in doing action, soooo... what if I talk to the stunt coordinator and figure out something for me to do?' I mean, girls get rescued at the end of the movie all the time. So I literally came up with the action sequence with the stunt guy. Before, I was just waiting for Paul to come save me."
Alba can't help but acknowledge that many of her recent roles have demanded she be in picture-perfect shape and, in some cases, play up that fine form in promotional materials. "I don't think I play 'super-hot chicks'; I think I play people who happen to be in bathing suits," she explains. "For some reason, everyone sort of emphasizes me being 'the sexy one,' but in this I'm the sweet girl next door!"
Then, getting back to our original point, she says that her next project, the independent film Awake (in which she costars with Hayden Christensen), will offer a most welcome relief from butt-kicking duty. "I have not had as many opportunities to do the kind of acting that I have wanted to do and that I am trained to do," she points out. "That's why I'm doing Awake, which is character driven. I don't have to wear a bathing suit or chaps or a superhero outfit. And hopefully people can see that I'm not just somebody who sells movies."
9.27.05 - Zap2It.com: Alba Has 'Fantastic' Hopes, Craves More 'Sin' Although she'd been anointed a rising star on several occasions, Jessica Alba's media profile next converted into box office dollars before this spring. Clad in chaps and equipped with a lasso, Alba's stripper-with-a-heart-of-gold Nancy was one of the main selling features for Robert Rodriguez and Frank Miller's "Sin City," as the graphic novel adaptation raced to just under $75 million at the domestic box office. Then in a clingy super-suit (and flirting with invisibility), Alba was front-and-center in the promotion for the comic adaptation "Fantastic Four," which has cleared $150 million. Both films were ensembles, but Alba was a prime beneficiary of their successes. Still, her role in future sequels is still in limbo, but the 24-year-old actress seems ready for future "Fantastic" adventures and to "Sin" again. More...
11.8.04 - Jessica Alba has signed on to star in and produce the futuristic drama Sonic, reports Variety. She'll play a young waitress who dies suddenly but is brought back to life just in time for the lunch rush.
7.14.04 - Jessica Alba has been cast as the Invisible Girl in "Fantastic Four," 20th Century Fox's adaptation of the Marvel Comics classic. Alba rounds out the crime-stopping quartet, which includes Ioan Gruffudd as Mr. Fantastic, Chris Evans as The Human Torch and Michael Chiklis as The Thing.
6.9.04 - Matt LeBlanc's upcoming Joey spinoff is down one friend. Ashley Scott (Asha) -- who was set to play Joey's sexy (and married) next-door neighbor in Los Angeles -- has been let go and the role will be tweaked and recast. Variety reports that the character will now be single and serve as a potential love interest for Joey.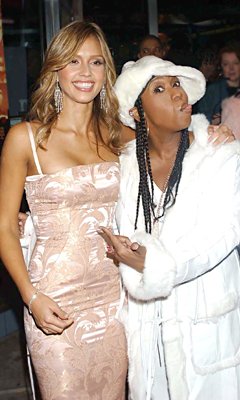 11.25.03 - From TV Guide Online Caught in the Act: We're in the Honey: Jessica Alba and Missy Elliott promoted their new film in New York City.

8.6.03 - Pictures of Jessica Alba attending the Teen Choice Awards at Yahoo: 1 2 3 4 5 6 7 8 9 10 11 12 13 14 15 16 17 18 19 20 21 22

5.15.03 - Jensen Ackles's (Alec) new drama, Still Life, has been picked up as a mid-season show for next season by FOX.

5.14.03 - Michael Weatherly's new drama, Navy CIS (the JAG spinoff), has been picked up for the fall season by CBS and will air on Tuesdays at 8pm ET.

3.20.03 - Michael Weatherly has been cast in the JAG drama spinoff pilot on CBS which concentrates on Naval Criminal Investigative Services.

10.14.02 - Jessica Alba was #45 on TV Guide's list of the 50 Sexiest Stars of All Time. Good things come in small packages, but heavenly bodies show up wrapped in Lycra. As the star of Fox's Dark Angel (2000-02) Jessica Alba immediately took wing, setting the Internet humming and enthralling costar (and eventual fiancé) Michael Weatherly. Alba's heritage (her father is Mexican-American and her mother is French-Canadian and Danish) gives the actress a unique look. She just has to pout with that sensual mouth and it's clear that hers is a face to be reckoned with.

8.22.02 - ER's Mekhi Phifer has been cast opposite Jessica Alba in Universal's coming-of-age drama "Honey." Production begins Sept. 9 in Toronto.

6.7.02 - Jessica Alba was named one of the Top 10 Sexiest Women in the World by the mens' magazine FHM.

6.3.02 - According to The Hollywood Reporter, Jessica Alba is in final negotiations to play the lead role in Universal's music-driven coming-of-age drama "Honey." She'll play a sexy, tough inner-city woman who gets discovered by a music bigwig.

5.16.02 - It looks like we all celebrated a little too early. FOX released their official fall schedule today, and Dark Angel has been cancelled. Wah.

I'm leaving this up, but it's no longer true.
5.13.02 - Fox has renewed "Dark Angel" for a third season. The 20th-produced sci-fi drama has been on the fence with weak ratings in its sophomore year, but sources said executive producer James Cameron in recent weeks made a full-court press effort with Fox brass to secure the renewal.

5.7.02 - E!Online's StarBoards: Jessica Alba answers you

5.3.02 - TV Guide Online: Can James Cameron Save Dark Angel? - Turns out, Hollywood budget-buster James Cameron can do more with less. The Oscar winner – who spent $200 million to make Titanic – managed to shoot tonight's 90-minute Dark Angel season finale for a measly $3 million....

5.2.02 - NY Daily News: Creator Says Renewal Odds Are Still Even - James Cameron, the Oscar-winning filmmaker and co-creator of Fox's "Dark Angel," is unsure about the fate of his series. In fact, tomorrow night's second-season finale might well be a series-ender....

4.17.02 - Jessica Alba has been nominated for an ALMA Award as Outstanding Actress in a Television Series. The ALMA Awards are presented by the National Council of La Raza and honors achievements by Latinos in the entertainment industry. The awards ceremony will air on ABC on Saturday, June 1st at 8pm Easter and Pacific.

3.16.02 - From the March 16th issue of TV Guide: Is Dark Angel Heaven-bound? "There aren't any young men and women who are home on Friday nights," says Stacey Lynn Koerner, director of broadcast research of Initiative Media. And that may be why Dark Angel, which flew from Tuesdays to Fridays last fall, is faltering. Knowing the move was risky, Fox aggressively promoted it. Plus, with star Jessica Alba, 20, gaining attention at awards shows and in campaigns for hair color and milk, the network hoped to build an X-Files-like following on Fridays–especially with that sci-fi series leaving the air in May.

But Dark Angel has had a rocky landing. At this point last season, the show averaged nearly 11 million viewers; now, it averages 6.4 million. Current events also may not be helping. "It's a tough time to have a show about a postapocalyptic society," says Koerner. "People want programming that makes them feel good, like Friends." And then there's the hefty price tag. It reportedly costs $2 million per episode to make the James Cameron-produced show.

Despite the recent unveiling of a long-in-the-works line of Dark Angel dolls (hitting stores in July), analysts believe that the once-hot series is nearing cancellation. No official decision will likely come until May, but for now the network says it's behind the show. "Jessica Alba is one of today's brightest stars," said Fox Entertainment president Gail Berman, in a statement to TV Guide. "We are pleased with the creative direction the series took this year and have confidence it will continue to grow in its new time period."

3.14.02 - Dark Angel was nominated for a Saturn Award by the Academy of Science Fiction, Fantasy and Horror Films as Best Network Television Series. The Saturn awards will be presented in June in Century City.

3.14.02 - Zap2It.com: Academy Award-winning director James Cameron will direct the second season finale, his first time directing for television.

"I believe in our show, and think it is one of the coolest things on network television," Cameron says. "I have wanted to direct an episode for some time, so when our director for the season finale dropped out just as I was completing photography on another project, I seized the moment."

"In any event, it will be good discipline for me to direct one hour on a TV-size budget when my last project was three hours for $200 million," Cameron says. "I love our cast and am looking forward to working with them in the mud and the blood and the beer."

"Wish me luck. This should be interesting."

2.27.02 - Ashley Scott will guest star in the WB pilot Birds of Prey as the DC Comics character Catwoman (best known as a nemesis of Batman).

2.5.02 - Scifi.com: Miller Tells Dark Secrets - Dark Angel co-star Valarie Rae Miller shared with SCI FI Wire some scoops about the second-season finale....

1.27.02 - Nana Visitor (Madame X) and William Gregory Lee (Zack) will be at STARFURY: DEFIANT, a 3 day science fiction convention taking place at the Thistle Hotel, Heathrow London, from 29-31 March 2002. Other guests at this event will include Lani Tupu and Gigi Edgley (from Farscape), and Robert Leeshock, Von Flores and Jayne Heitmeyer (from Earth: Final Conflict). The event will feature guest talks, autograph signings, photo sessions, a dealers room, fancy dress, quizzes and raffles, and three discos going until very late. For further details on this event please visit: http://www.starfury.co.uk

11.4.01 - Jessica Alba, along with Jennifer Garner (Alias), presented the Emmy for Outstanding Director for a Variety or Music Program to David Mallet for Cirque Du Soleil.

10.21.01 - Don't miss the fabulous article on Jessica Alba and Michael Weatherly in the October 20th issue of TV Guide.

9.24.01 - J.C. MacKenzie's guest column on the Canadian web site, Gordie.ca

9.16.01 - Zap2It: Cameron Mulls Film Version of 'Dark Angel'

9.7.01 - Zap2It: 'Dark Angel" Sees Brighter Days - After struggling last year to find a balance between delivering the goods on screen and not busting the budget, FOX's sophomore science-fiction series "Dark Angel" seems to have found its middle ground....

9.6.01 - Zap2It: FOX Gives 'Dark Angel' Fans a Web Tease - The season premiere of "Dark Angel" is still two weeks away, but the kind folks at FOX are giving fans of the show and star Jessica Alba something to tide them over....

9.6.01 - Beginning Friday, Dark devotees can download the show's new second-season poster - featuring a super sexy shot of Alba - by logging onto DarkAngelFriday.com. The eye-catching poster is part of a huge campaign the network is conducting to promote the show's move to Friday nights this fall.

8.22.01 - William Gregory Lee (Zack) and Nana Visitor (Madam X will be attending the Starfury Convention. The convention will be held at the Heathrow Park Hotel, London, England from March 29th through 31st, 2002.

8.21.01 - Jessica Alba will be a presenter at the 53rd Annual Primetime Emmy Awards, which will be broadcast live from Los Angeles' Shrine Auditorium on CBS Sunday, Sept. 16.

8.11.01 - Canadian actor Martin Cummins has been cast in a recurring role. For more info on his character, see the previews page.

8.10.01 - Jessica Alba and Michael Weatherly are featured in the "Young Hollywood in Love" article in the August 11 issue of TV Guide.

8.9.01 - Zap2It: 'Dark Angel' Spreads Wings Over New Cast Members

8.6.01 - TV Guide Online: Jessica Alba: Bride-to-Be - Jessica Alba may play a genetically enhanced supervixen on Dark Angel, but she feels a little more vulnerable than that in real life. As the rising starlet has learned, giving up her privacy is a lot tougher than taking on TV baddies - especially when it comes to her romance...

7.18.01 - Zap2It: Cameron Curbs 'Dark Angel' Spending - Earlier this year, "Dark Angel" co-creator Charles "Chick" Eglee admitted that the sci-fi series was "routinely overbudget"....

7.18.01 - From SciFi.com: The creators of Dark Angel said that big changes are in store for the show as it enters its second season on Fox. In addition to moving to a new 8pm Friday time slot, the show will broaden its story to extend beyond Max. James Cameron said that he's eager to see the series translated onto the big screen. "If we have continued success with the series, I think there is a good possibility we might want to make a film from it, absolutely," Cameron said in an interview. "I think we've got to see where the series goes. If we grow our fan base and stay at least where we are and/or grow from where we are, I'd think, yeah, that'd be a very good possibility.

7.12.01 - Dark Angel received an Emmy nomination for Outstanding Special Visual Effects for a Series for the pilot.

7.2.01 - The latest edition of DreamWatch, issue #83, features an interview with Michael Weatherly. Now firmly settled into his role, Michael Weatherly reflects on the first year of Dark Angel and discusses his partnership with co-star and real-life fiance Jessica Alba.

6.27.01 - The sci-fi convention, Starfury: Chariots of War, will take place at the Radisson Edwardian Hotel, Heathrow London, UK from June 30th through July 1st. The convention is for fans of Xena and Dark Angel. This will be the first convention in the world to feature main cast members from Dark Angel. Guests attending this event include William Gregory Lee (Zack & Virgil in Xena), Jennifer Blanc (Kendra), Hudson Leick (Callisto in Xena), Ted Raimi (Joxer in Xena), Adrienne Wilkinson (Livia/Eve in Xena), Jennifer Sky (Amarice in Xena & Cleo in Cleopatra 2525). The event will feature guest talks, autograph sessions, photo opportunities, quizzes and raffles, memorabillia dealers, disco's and much more. As of June 27th, tickets are still available. For further details, see: http://www.cleopatra2525.co.uk.

6.18.01 - Dark Angel will make its official move to Fridays on July 20th.

5.17.01 - On Fox's official fall schedule, Dark Angel will now be airing on Fridays at 8pm ET.

5.15.01 - Jessica Alba will be on "The View" on Wednesday, May 16th.

5.8.01 - Jessica Alba and Michael Weatherly are engaged!

5.1.01 - Jessica Alba will be on "Late Night with Conan O'Brien" on Wednesday, May 16th.

4.28.01 - It's Jessica Alba's 20th birthday!

4.26.01 - Don't forget to wish Jessica Alba a happy 20th birthday on April 28th.

4.15.01 - Jessica Alba is featured in the "Top 25 Under 25" issue of People magazine.

4.13.01 - Jessica Alba is featured in the April issue of SKY magazine from the UK.

4.5.01 - Dark Angel has been nominated for a Saturn Award for best series by the Academy of Science Fiction, Fantasy and Horror Film. The 27th annual Saturn Awards ceremony will take place on June 12 at the Park Hyatt Hotel in Century City, CA.

4.5.01 - Jessica Alba will be appearing at Nickelodeon's 14th Annual Kids' Choice Awards.

4.3.01 - TV Guide Online: Angels on the Outs - Joss Whedon, creator and executive producer of Buffy the Vampire Slayer and Angel, is upset with Fox's decision to put Dark Angel up against Angel in the same Tuesday night time slot...

4.1.01 - The latest issue of DreamWatch, issue #80, features interviews with James Cameron and Valarie Rae Miller. James Cameron reveals his plans for the future while Valarie Rae Miller addresses her role as Original Cindy.

3.28.01 - Don't miss Jessica Alba on the cover of Seventeen magazine.

3.28.01 - Globe and Mail: Superhero, sex kitten, and tired of it all

3.26.01 - Check out the "Chariots of War" Part 3 convention featuring William Gregory Lee. At the Radisson Edwardian Hotel, London, England, June 30th through July 1st, 2001.

3.21.01 - From the March 17th issue of TV Guide: "Valarie Conscious" The actress who plays Dark Angel's Original Cindy is as straight shooting as her feisty character. Playing the first African-American lesbian on a network series isn't a role that Dark Angel's Valarie Rae Miller takes lightly. "There's a responsibility to show this character without turning her into a stereotype," Miller, 25, says of Original Cindy, the sharp-tongued best friend of Jessica Alba's Max in the postapocalyptic Fox series. A former host of both Fox's baseball pregame show In the Zone and Disney's One Saturday Morning lineup on ABC, Miller is eager for Cindy to explore her romantic side, which is expected to emerge in future episodes. And she would have no problem kissing a woman. "How many brothas did I have to kiss that I wasn't particular on trying to kiss? The problem is a lot of times they want to practice on the side, and all this extra stuff," she says, laughing. "Chances are a girl is going to be fine." The Fort Worth, Texas, native won't discuss her own love life, but she adds: "My personal life is pretty boring to me. Besides, Cindy is far more interesting than I am."

3.16.01 - Zap2It: Dark Clouds over Dark Angel? - There may not be a second season for Fox's Tuesday-night SF series...

3.13.01 - From New York Daily News: Co-Star of 'Dark Angel' Enjoys 2020 Vision - Michael Weatherly says Jessica Alba is exceptionally cool...

3.12.01 - There is a chance that "Dark Angel" will not be renewed for a second season. To support the show, sign this petition, or write to FOX Broadcasting Co., P.O. Box 900, Beverly Hills, CA 90213.

3.12.01 - "True Lies," directed by James Cameron, will air on Fox on Sunday, March 25th.

3.10.01 - Check out Jessica Alba on the cover of this week's issue of Entertainment Weekly and in the article on page 26.

3.8.01 - Jessica Alba won a TV Guide Award for Breakout Star of the Year.

1.8.01 - "Dark Angel" won a People's Choice Award for Favorite New Television Dramatic Series.

12.29.00 - "Dark Angel" has been nominated for four TV Guide Awards: New Series of the Year, Actor of the Year in a New Series (Michael Weatherly), Actress of the Year in a New Series (Jessica Alba), and Breakout Star of the Year (Jessica Alba).

12.21.00 - Jessica Alba was nominated for a Golden Globe Award for Best Performance by an Actress in a Television Series - Drama. Congratulations!

11.30.00 - Jessica Alba has been nominated for a People's Choice Award for Favorite Female Performer in a New Television Series and "Dark Angel" has received a nomination for Favorite New Television Dramatic Series. Vote!

11.1.00 - "Dark Angel" (along with "Boston Public") has received a full season order from Fox, bringing the total number of episodes ordered to 22. "We're delighted with both the performance and creative direction of 'Boston Public' and 'Dark Angel,'" Gail Berman, FOX's President of Entertainment, said. "They speak to the growing strength of our vastly improved Monday and Tuesday nights." "Dark Angel" has posted gains in the key demographics for the Tuesday 9pm timeslot from last season. "Dark Angel" is up 71 percent and posted its best ratings on Tuesday when it beat ABC and CBS.

10.31.00 - Wanda at E!Online says that Michael Weatherly and Jessica Alba are NOT dating. In fact, she's "seen Michael roll his eyes at his younger, not-so-quick costar, so [she doesn't] think she stands much of a chance."

10.17.00 - Wanda at E!Online doesn't have much good to say about "Dark Angel."

10.11.00 - According to the American Public, our pal Max beat Al Gore AND George W. Bush. Okay, that's embellishing just a little, but check out this article on Dark Angel beating the Presidential Debate in the ratings game.

10.10.00 - Washington Post: Dark Angel - Casting An Intriguing Light

10.5.00 - Dark Angel scored big time ratings during its season premiere Wednesday. Check it out here

10.5.00 - Is Dark Angel Heavenly? Speak your piece at Gist.com

10.02.00 - Don't miss the article on "Dark Angel" on page 20 of the October 6th issue of Entertainment Weekly entitled "Brawlin' 'Angel.'"

10.02.00 - From the October 6th issue of Entertainment Weekly: No one can accuse actress Valarie Rae Miller of lacking range. The host of ABC's One Saturday Morning kids programming block also plays a lesbian enforcer on Fox's sci-fi series Dark Angel. "Here we have a squeaky-clean woman on ABC playing a sex-starved lesbian in prime time," says GLAAD's Scott Seomin. "Could they be more different?" Surprisingly, there hasn't been a peep about Miller's night gig from the folks at ABC or its parent company, Walt Disney. Says Miller: "One of the big guys in ABC programming said, 'Wow, that's some interesting job you go. Well, congratulations.'"

9.27.00 - Jessica Alba will be ALL OVER HBO on October 17th. The premium channel will be showing "Never Been Kissed" twice and "Idle Hands" in the evening.



9.26.00 - Jessica Alba is on the cover of this month's issue of Maxim. This issue, which is scheduled to hit newstands this week, features a photo spread and interview with who many are calling the hottest new star of the fall TV season. But we all knew that already.

9.18.00 - A brief overview and synopsis from zap2it.com

7.26.00 - An article in the Seattle Post-Intelligencer with some interesting commentary and speculation on why Seattle was chosen to be the show's setting.

7.23.00 - A cool article in Mr. Showbiz with a short blurb from James Cameron on his plans for the first season. The show will begin with a two-hour season premiere on October 3.

7.16.00 - An article from FantasyTV, basically a nice overview that mentions the show's ratings shoot-out with the WB's Angel.